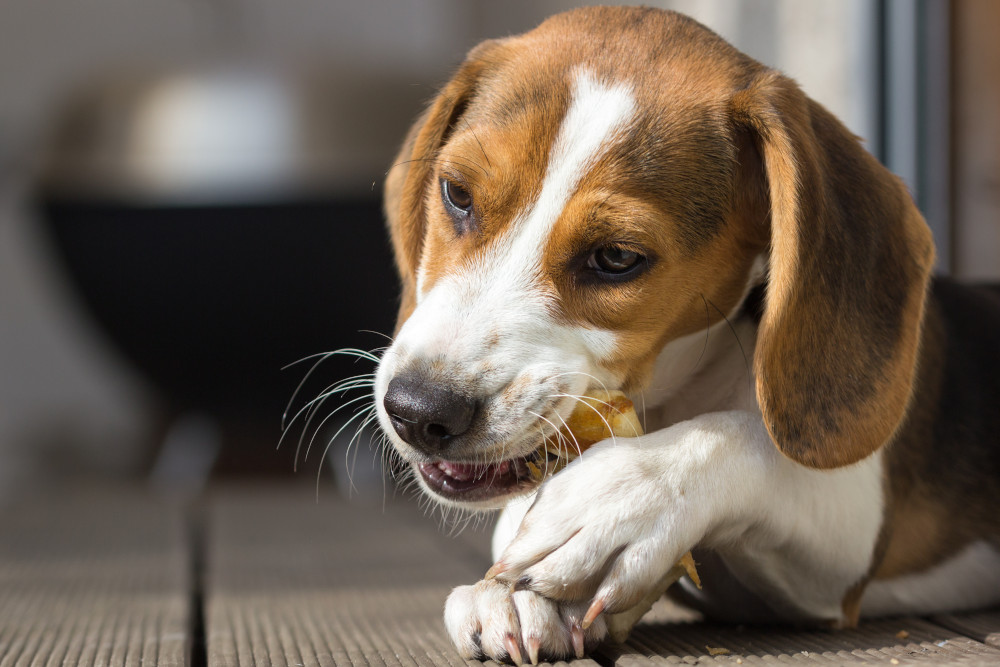 Bones can provide dogs with nutrients and mental stimulation, plus remove tartar from the surface of their teeth. However, bones can break teeth, cause internal blockages, as well as carry bacteria that can make both animals and humans ill. It is important to consider these factors so you can make a well-informed decision that is best for the wellbeing of your pet and family.
The benefits of feeding dog bones
Bones are a source of dietary nutrients such as protein, calcium, and phosphorus.
There is evidence that chewing bones can remove tartar from the crown/top of a dog's teeth [1]. However, this action does not remove tartar present below the gumline or prevent plaque from building up and causing dental disease.
The chewing activity can provide mental stimulation [2].
The risks of feeding dog bones
Dogs have evolved significantly from their wolf ancestors, including developing an ability to digest starch and fat, in addition to living longer and healthier lives [4]. Feeding them bones is not necessary given the range of quality nutritionally balanced diets available. Dental chews are a good alternative if you wish to provide your pet with entertainment that assists with teeth cleaning – the global Veterinary Oral Health Council lists dental products that meet standards for safety and reducing plaque/tartar. If you are unsure and want more information, seek appropriate veterinary advice.
References
[1] Marx F et al (2016) Raw beef bones as chewing items to reduce dental calculus in Beagle dogs. Australian Veterinary Journal 94: 18-23.
[2] Ketter DA et al (2020) Effects of calf horn as chews on the behavior of laboratory dogs. Journal of Applied Animal Welfare Science 23: 116-128.
[3] Van Valkenburgh B et al (2019) Tooth fracture frequency in gray wolves reflects prey availability. eLife 8: DOI: 10.7554/eLife.48628.
[4] Freeman LM et al (2013) Current knowledge about the risks and benefits of raw meat-based diets for dogs and cats. Journal of the American Veterinary Medical Association 243: 1549–1558.
[5] Wyatt SR, Barron PM (2019) Complications following removal of oesophageal foreign bodies: a retrospective review of 349 cases. Australian Veterinary Journal 97: 116–121.
[6] Davies RH et al (2019) Raw diets for dogs and cats: a review, with particular reference to microbiological hazards. Journal of Small Animal Practice 60: 329-339.
[7] Neshovska H (2020) The raw dog food – advantages and disadvantages. Tradition and Modernity in Veterinary Medicine 5: 76-87.
[8] Jacobs JA (2018) Factors associated with canine resource guarding behaviour in the presence of people: a cross-sectional survey of dog owners. Preventive Veterinary Medicine 161: 143-153.