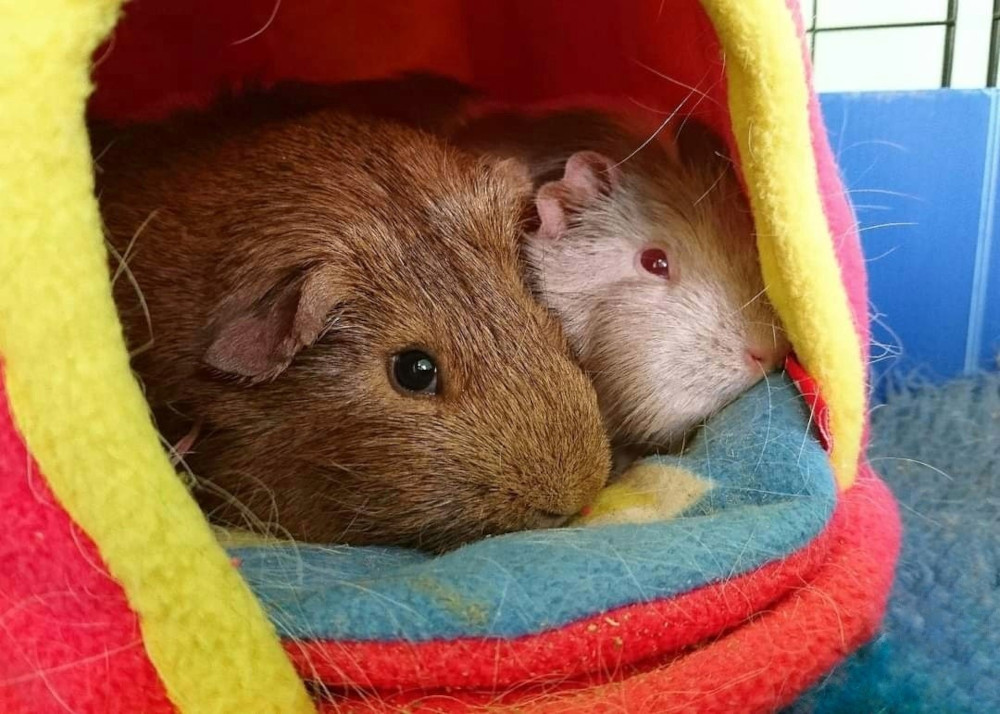 You may be able to adopt a new guinea pig (or better yet, two!) from your local animal shelter, such as the RSPCA, or a guinea pig rescue group. This also helps to reduce demand for guinea pigs (and thereby reduce uncontrolled and irresponsible breeding. You may also be able to purchase a guinea pig or pigs from a pet shop, a breeder, or a friend or relative.
There are pitfalls in selecting where you can get guinea pigs, and this article discusses some of the issues and planning that you need to consider before you buy them. Hopefully, if even some of the following suggestions are followed, a lot of heartbreak and financial loss can be avoided.
Who should you buy your guinea pigs from?
There are a lot of sources for obtaining guinea pigs. While tempting to do so, you need to be careful not to make broad assumptions about sellers. High-quality guinea pigs can be sold by ethical pet shops, and poor-quality guinea pigs sold by so-called reputable breeders. You can't just say "Pet shops are bad; breeders are good!" or vice versa. So, what should you look for in a good seller?
Honesty: An honest breeder or pet shop will not try to deceive you by substituting guinea pigs or telling you that a guinea pig is 'just shedding hair' or 'just has a cold'. They will know how to identify the sex of the guinea pigs. They will sell you a guinea pig in good health – after all their reputation (and therefore future sales) hangs on the quality of the animals they sell. They won't try and take advantage of a novice; rather, they will make time to educate such a novice.
Knowledge of guinea pigs: If you have done your research carefully, you will already know a lot about guinea pigs. Quiz the seller to ascertain their level of knowledge – don't just accept their assertion that 'they know everything about them'. This quizzing should include elements such as suitability of the guinea pigs as pets or breeders, diet, cage size, husbandry practices, etc. Of course, if you haven't done your research, you can have the wool pulled over your eyes by an unscrupulous seller. Remember, do your homework!
Passion for guinea pigs: A good seller is passionate about guinea pigs. They love the guinea pigs they have; they look after them well; they care about to who they are selling the guinea pigs, and where the guinea pigs will be going. This passion is reflected in the care given to the guinea pigs, and their subsequent health.
If you feel the seller is lacking any, or all, of these attributes, you may need to walk away from the sale. This can be difficult at times but, in the long run, you won't regret it.
What do the sale premises look like?
If you are buying guinea pigs, it is always a good idea to have a look at the seller's premises. Never buy guinea pigs out of the boot of a car at a Sunday market or online without visiting the premises where the guinea pigs are kept! In some cases, it may not be feasible, due to distance or security, to visit the seller's premises, but good quality digital photos of the guinea pigs' enclosures can be used to give you a good idea of how the guinea pigs are looked after. Alarm bells should start ringing if you see any of the following:
Overcrowding.
Poor hygiene – dirty floors, filthy food and water dishes, urine, and faeces everywhere, etc.
Poorly designed, poorly maintained, or badly set out enclosures.
Poor quality or a lack of variety of food on offer to the guinea pigs.
Guinea pigs that appear unwell – dull, eyes closed, sitting still, no droppings on the floor of the cage. Even if they're not the guinea pigs you are buying, they will have been in contact with them.
If you are wanting to adopt your guinea pigs from a shelter or rescue group, many of the same considerations apply. You should expect the guinea pigs to be healthy and well cared for; their environment clean, well-designed and maintained with no overcrowding; and to be given good information about the individual guinea pigs and general guinea pig care and needs.