There are many situations where animals provide assistance to people living with a disability. Dogs are the most common assistance animals and those who have been trained by an organisation are often identified by wearing a jacket, a harness, or a brightly coloured collar and lead. Despite assistance dogs being considered as a kind of working dog, a strong human-animal bond usually develops, and to their owner, they are one of the most important companions in the person's life. These dogs are trained to perform specific tasks related to their owner's disability, assisting them to develop independence and confidence and to participate in various areas of personal and public life.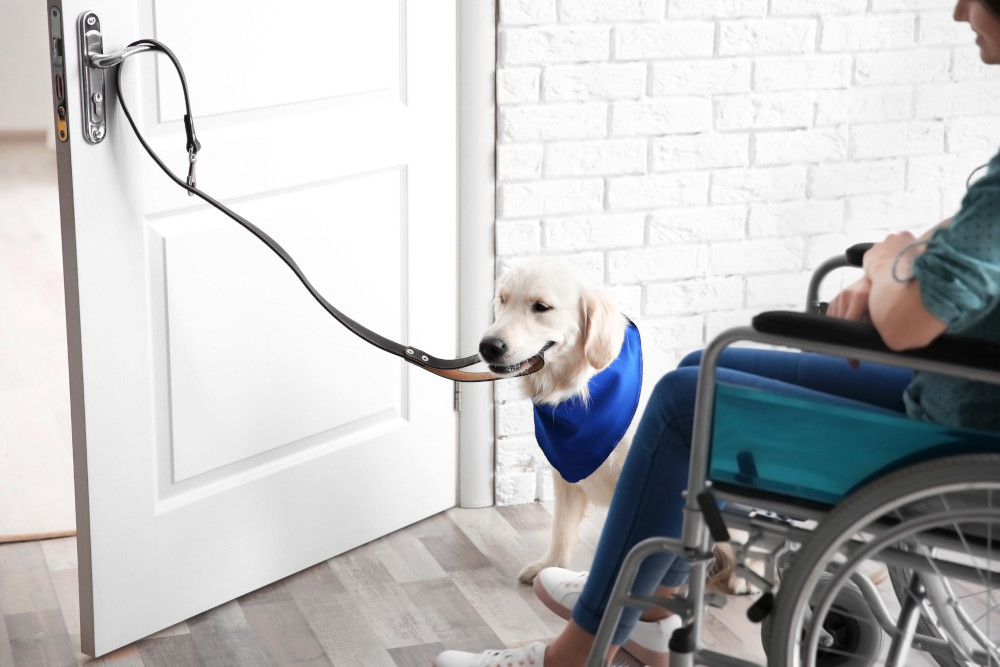 Assistance animals, who are sometimes called 'service animals' overseas, include:
Dogs trained to perform daily personal care tasks (for example, retrieving or carrying items, opening and closing doors, switching lights on and off, pulling laundry from washing machines) or mobility assistance (for example, pulling wheelchairs or helping with balance) for people with physical disabilities including cerebral palsy, multiple sclerosis or suffering long-term impacts after a serious accident;
Guide (or 'seeing eye') dogs to assist people with vision impairment to move around safely;
Hearing (or 'hearing ear') dogs to alert people with hearing impairment;
Medical alert dogs (such as for the detection of impending seizures in people with epilepsy or of blood sugar changes in people with diabetes); and
Psychiatric assistance dogs to interrupt anxiety, alert to triggering situations and wake from a nightmare for people with Post Traumatic Stress Disorder (PTSD) or other mental health related disabilities, traumatic brain injury etc.
Owners of assistance dogs are usually their primary handlers as well as their caregivers, and many dogs are trained to respond only to their owner's commands. It is important that members of the public do not pat or otherwise distract assistance dogs unless permitted by the owner.
An assistance animal is legally defined under commonwealth legislation [1] as "a dog or other animal that is:
(a) is accredited under a State or Territory law to assist a person with a disability to alleviate the effects of disability; or
(b) is accredited by an animal training organisation prescribed in the regulations; or
(c) is trained to assist a person with a disability to alleviate the effect of the disability and meets standards of hygiene and behaviour that are appropriate for an animal in a public place."
Owners of certified assistance animals have 'full public access rights', which means they can be accompanied by their assistance animal anywhere that members of the public are allowed to go, including on all forms of public transport. The only exceptions may be areas where there is a public health risk, such as food preparation areas, sterile environments (as in some hospital units) and quarantine areas. Owners who need to travel by airline with their assistance animal in-cabin should contact individual airlines directly, as this is not routinely permitted in Australia. Apart from these situations, it is illegal to discriminate against anyone who is reliant on an assistance animal by denying them full public access rights.
These rights do not apply to owners and their 'emotional support animals'; these are generally companion animals who provide emotional support for people with a diagnosed mental health condition in the home setting but who may not have been specifically trained and/or certified. Nor does it apply to non-certified 'facility animals' or 'therapy animals' who are partnered with health care, educational or other professionals to support people in various facilities (such as schools, learning or rehabilitation centres, care homes, therapy clinics, psychiatric facilities or courts) and who live either at the facility or with their handlers. These are important distinctions, even though assistance animals also offer emotional support to their owners.
See Also