Animals with exaggerated physical features, like brachycephalic or flat-faced dogs, have loving personalities and form strong bonds with their owners. Unfortunately, breeding for particular body shape features results in health and welfare problems.
Many brachycephalic dog breeds have major difficulty giving birth. British bulldogs, French bulldogs and Pugs are deliberately selected for a large head, broad shoulders and narrow pelvis, which means the pup's head and shoulders are too large to fit through their mother's pelvic canal, causing major birthing problems. In addition, the mother can have trouble breathing due to the stress and physical exertion of birthing.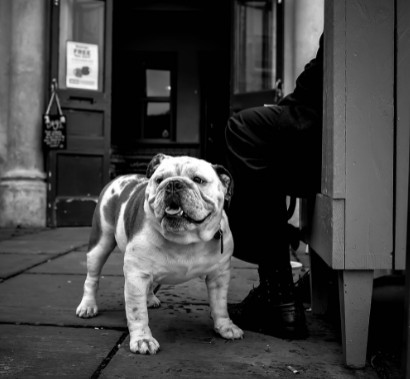 Veterinary assistance is often required for the mother and puppies to safely survive the birthing process. Generally, they can't give birth normally and require veterinary assistance and a caesarean section. A caesarean section is a major surgery which involves anaesthetising the mother, opening the abdomen, and exposing and opening the uterus (womb) to deliver the puppies. The British bulldog, French bulldog, and Boston terrier reportedly have caesarean section rates of 86%, 81%, and 91% [1].
A caesarean section surgery may be performed as an emergency when a female in labour is unable to safely birth the puppies naturally. Emergency caesarean section (e.g., when a pup becomes trapped in the birth canal) greatly increases risks to mother and pups, including increased likelihood of puppies dying [5].
A caesarean section surgery may be performed as an elective surgery scheduled on a fixed date and time before the onset of natural labour. Some breeders will schedule an elective caesarean section surgery for their pregnant dogs, due to the known incidence of birthing problems in that breed or family of dogs. For some animals, elective caesarean section may be the only safe way to ensure survival of the mother and pups [6]. However, there are still welfare risks associated with elective caesarean sections. Anaesthesia poses risks for brachycephalic breeds due to their respiratory problems, and post-surgical pain management is required for the mother who must cope with her pups suckling near the region of the surgical wound [1]. Dogs who undergo caesarean sections are more likely to have trouble giving birth naturally when having subsequent litters [6].
There is no published data comparing the frequency of elective with emergency caesarean sections in brachycephalic dogs, but brachycephalic dogs are more likely to have both elective and emergency caesarean sections compared to other breeds [2–4].
It is of great concern that many of these dogs are unable to give birth without surgery and must endure the distress and suffering resulting from this. A simple solution is to change the breed standards, so that pedigree dogs are no longer selected for exaggerated features such as an exaggerated wide head and shoulders. This would greatly help these dogs to give birth naturally.
RSPCA Australia and the Australian Veterinary Association are raising awareness to try to change how purebred dogs are selected and bred in Australia. Current and potential owners can play a vital role in helping to improve the welfare and lives of brachycephalic breeds. For more information or to get involved, visit the following websites: Love is Blind, Australian Veterinary Association. See also: American College of Veterinary Surgeons, International Cat Care, Universities Federation for Animal Welfare and UPEI Canine Inherited Disorders Database.
References
[1] Universities Federation for Animal Welfare (2011) Dystocia due to Foetal-Pelvic Disproportion in English bulldogs (accessed on June 23, 2021)
[2] Moon PF et al (1998) Perioperative management and mortality rates of dogs undergoing caesarean section in the United States and Canada. Journal of the American Veterinary Medical Association 213(3): 365-369.
[3] Evans KM, Adams VJ (2010) Proportion of litters of purebred dogs born by caesarean section. Journal of Small Animal Practice 51(2): 113-118.
[4] O'Neill DG et al (2019) Canine dystocia in 50 UK first‐opinion emergency care veterinary practices: clinical management and outcomes. Veterinary Record 184(13): 409-409.
[5] Proctor‐Brown LA et al (2019) Impact of decision to delivery time of foetal mortality in canine caesarean section in a referral population. Veterinary Medicine and Science 5(3): 336-344.
[6] De Cramer KG, Nöthling JO (2020) Towards scheduled pre‐parturient caesarean sections in bitches. Reproduction in Domestic Animals 55(2): 38-48.