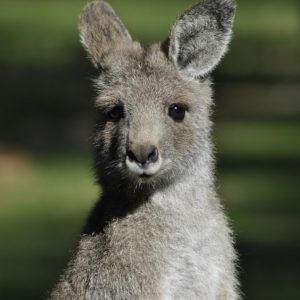 Due to a range of factors, including traditional farming practices, provision of man-made water sources, and land disturbance, kangaroo populations can reach very high densities in many areas of Australia. It is unlikely that major changes to the way in which we farm or manage our land will occur in the short-term, therefore, it is sometimes considered necessary to control these populations of kangaroos. For instance, control may be carried out in areas where resources are insufficient to sustain the local kangaroo population, or where there is direct competition with other grazing animals on agricultural land (damage mitigation, also referred to as non-commercial shooting).
However, in most States or Territories, quotas are set for the commercial harvesting of kangaroos which do not relate population reduction directly to damage mitigation. Kangaroo management plans treat kangaroos as a sustainable resource available for commercial use, rather than making a decision for control as a result of examining their impact on the environment. Given the effects of drought and climate change, there is debate about the impact of the current sustainable use approach on future populations of commercially exploited species.
RSPCA Australia believes that the issue of whether kangaroos and wallabies should continue to be killed under a sustainable use policy should be reviewed by both federal and state/territory governments. Continuing research is needed to determine the impact of current culling practices on kangaroo populations and their environment.
RSPCA Australia believes that any measures taken to reduce kangaroo populations should first be proven to be necessary (through a proper consideration of the reasons for control). They must be conducted humanely and be under the direct supervision of the appropriate government authorities (as part of an approved kangaroo management program). Effective monitoring and auditing of such programs is vital to ensure that these conditions are met.
There are a number of aspects of the current management of kangaroos that do not conform to these conditions, such as:
Large numbers of kangaroos are shot inhumanely every year, particularly under the non-commercial system, with no on-the-ground animal welfare monitoring of shooters.
Each time a female kangaroo is shot her dependent joey is either killed by the shooter or will die as a result of predation, dehydration or starvation. The RSPCA has serious concerns about the suffering caused by shooting females with pouch young. A study has shown that shooters need to be trained to ensure that orphan joeys are humanely killed [1]. Standard operating procedures have been included in the recently revised commercial kangaroo shooting code. However, the non-commercial kangaroo shooting code does not contain this information. All shooters should be monitored to ensure Code compliance.
The process of setting quotas for killing kangaroos does not relate population reduction directly to damage mitigation.
Until these issues have been properly addressed, questions remain about the humaneness of kangaroo shooting and the basis for current government policies on the management and killing of kangaroos.